This article is the second in a series of articles on inferior functions, which explains in more detail what I covered in the previous one.
So you will get a clearer picture of the inferior function after reading this.
Sponsored Link
Babies Laugh and Cry Unconsciously
Let me begin with a brief review of the previous article.
When people are newborn babies, they are in a state of unconsciousness.
Probably babies also have four personality functions: thinking, feeling, sensation, and intuition.
However, those functions exist in the "unconscious realm," so the babies cannot be "conscious" of them.
Babies aren't conscious of themselves laughing or crying
At the latest, before children enter kindergarten, most of them can use their personality functions consciously.
At this time, the first function to become conscious is the superior function.
On the other hand, a function left in the realm of the unconscious forever is an inferior function.
The function that is neither superior nor inferior is the auxiliary function
Please look again at the figure of the "four functions."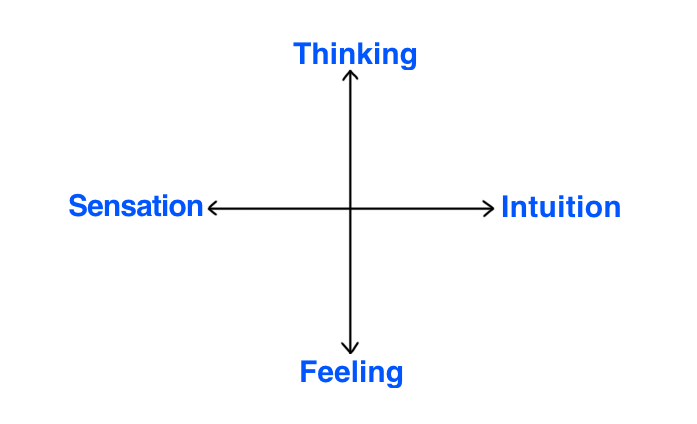 Thinking and feeling are on the opposite side, and sensation and intuition are also on the opposite.
Therefore, when thinking is the superior function, feeling, which is the opposite, is the inferior function.
Conversely, when the feeling is the superior function, thinking is always the inferior function.
Similarly, when sensation is the superior function, intuition is the inferior function, and vice vasa.
So far, this is a review of the previous article.
The Inferior Function Has Not Evolved Since Babyhood
The superior function is in the realm of consciousness, so it is sophisticated.
It is just like a person who is constantly "conscious" of their appearance will have a better sense of fashion.
To some extent, we have control over the areas we are "conscious" of.
We gradually become used to handling them.
In contrast, however, the inferior function has been left in the realm of the unconscious since we were babies.
Because we are not used to using those functions daily, we cannot use them well even when we need them.
As I mentioned in my previous article, the inferior function does not change much from when we were babies.
Jung described the characteristic of the inferior function as follows.
Inferior functions are INFANTILE and ARCHAIC!
By the way, it isn't easy to soothe a baby with an adult's intellect.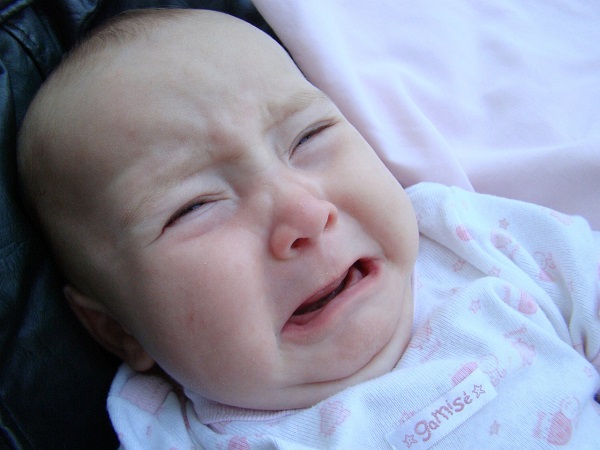 The inferior function is also childish, like a baby, and does not work as expected.
So controlling one's inferior function with one's will is difficult.
The inferior function is a part of your personality that has not yet evolved, even as an adult.
That is why it isn't easy to control.
Sponsored Link
Thinking Types Are Poor at Expressing Emotions
Now, I will describe the characteristics of the inferior function using the thinking type as an example.
Thinking type means this.
Superior function → Thinking
Inferior function → Feeling
Thinking types are rationalists and good at thinking logically.
They can also switch their minds when they need to think, whether when they feel sad, tired, or hungry.
They are the very people who are accustomed to using their thinking function.
However, such thinking types sometimes become very "emotional" and cry in front of others.
People around them may see this and say,
"I thought he was cool-headed, but he's more of an emotional type, isn't he?
But this view is wrong.
Because they are thinking types, and feeling is the inferior function, they are not good at controlling their emotions.
They may have a hard time dealing with their "feelings" because their emotions are not as they want them to be.
Childish parts of ourselves are hard to handle
By the way, thinking types are indeed cool-headed, and that's why they sometimes look like emotionless people.
For example, they are at a funeral, and everyone is crying, but thinking types look unconcerned.
When a friend is depressed because of a broken heart, they cannot say a single kind word to the friend.
So, some people feel that these thinking types are cold-hearted.
But it is wrong to think that thinking types do not have emotions.
On the contrary, they may have more pure emotions than feeling types because they are still pure infants in the emotional aspect.
For example, some thinking types cry when they watch a moving film and empathize with it.
Also, after a thinking type dies, a diary of that person is sometimes found.
And some people are surprised at the diary because they find romantic sentences there as if an adolescent wrote them.
Why do such thinking types seem to be emotionless people?
It is because thinking types cannot properly use their feeling function in places where they need to.
Simply put, they are poor at expressing emotions.
On the other hand, a feeling type can say the right words on the spot to a friend who is depressed
Feeling Types Are Not Good at Switching Their Mind
Next, let's consider the feeling type.
Feeling type means this.
Superior function → Feelings
Inferiority function → Thinking
Some people speak ill of feeling types as follows:
"They are the ones who can't think."
"They should think more."
However, it is a big mistake to say that feeling types do not think.
Feeling types think very well and love "thinking."
For example, when a friend's birthday is approaching, feeling types think about things like the following.
"What kind of party should I throw for her?"
"What gift should I give her?"
Feeling types love to think about these things.
However, feeling types only like to think about what interests them.
They feel pain when they have to think about things that are not interesting.
In other words, they have difficulty using their thinking function businesslike way.
It is just like thinking types cannot use their feeling function well when needed.
Feeling types are also not good at "consciously" using their thinking function where they are needed.
The traits of feeling type may be most apparent during exams.
For example, during a math exam, even if you are not in the mood to think about math, you have to make your mind work like a machine.
Thinking types can do this consciously.
However, in the case of the feeling type, if they are not in the mood for math, they may think,
"Why do I have to think about math right now?"
By the way, have you ever thought about this?
Who is smarter, the thinking type or the feeling type?
It isn't easy to make a general statement about this because the definition of "smart" is unclear.
And it depends on the person
However, one thing might be said as follows.
Thinking types might be better at "exams."
Thinking types are more likely to be able to study equally well for the exam, no matter which subjects they like or dislike.
Also, even if they are not in the mood to take an exam, if it is the day of the exam, thinking types can easily switch their minds to the exam.
For these reasons, I have the following thoughts about "exams."
Apparently the "exam" is not there to select the smarter people but to select the thinking type people.
Sponsored Link